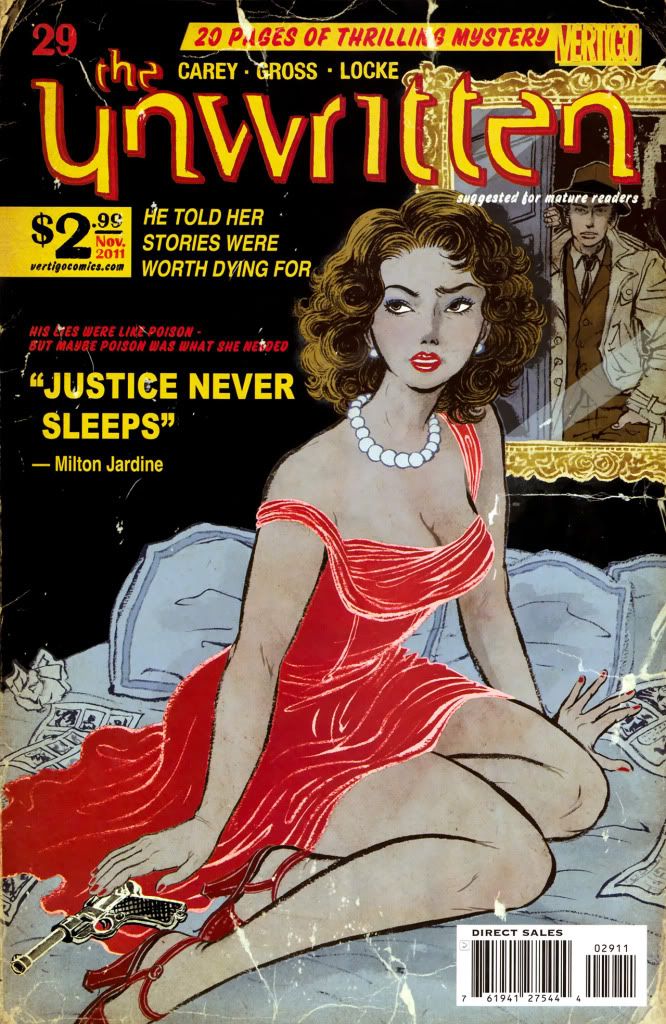 The Boys: Butcher Baker Candlestickmaker #3
(Dynamite) - I'm usually very down on the idea of "guilty pleasures" — if I like something, I like it, so why feel guilty? For some reason Garth Ennis'
The Boys
has always seemed like an exception to that rule, because it's pretty much the definition of a guilty pleasure: dumb, violent, the extreme incarnation of Ennis' adolescent desire to shock and disturb readers. The series is often just a parade of typical Ennis tropes: deviant sex, swearing, drinking, lots of blood and violence, all of it delivered with a mix of gleeful exhibition and hypocritical moral scolding. So why am I still reading it? I guess it's just that Ennis, whatever else he is, is a great entertainer, and this ridiculous, blood-splattered series remains big dumb fun, month after month. This spin-off miniseries, on the other hand, is a more restrained affair, focusing on the origin of main character Butcher, providing an explanation for how he became the psychopathic killer that he is. This issue is entirely about Butcher's affair with a beautiful redhead, and in typical Ennis fashion it's broadly, exaggeratedly sweet and innocent and happy. So of course next issue I'm sure the girl's going to be dismembered in some outrageously horrible manner and Butcher will go crazy thirsting for revenge. That's Ennis' familiar pattern, and it's wearing a little thin in this series while he pretends he can tell a serious story in the midst of this thinly disguised excuse for creative cursing and disemboweling. Plus, artist Darick Robertson, whose blocky, somewhat ugly figures are usually so perfectly suited to Ennis' broadly satirical tone and blunt action, doesn't fit as well with this issue's upbeat romance.
Daredevil #4
(Marvel) - So this new series is really awesome. I've read the previous acclaimed takes on this character by writers like Frank Miller, Brian Michael Bendis and Ed Brubaker, and what they all have in common is that they're extraordinarily dark and bleak, pushing Matt Murdock to the limits of physical, psychological and emotional endurance. Mark Waid's new run doesn't ignore that brutal history, but in terms of tone and style this is a fresh, self-consciously distinct approach to the character. Waid's style is light and witty, and his Matt Murdock is a man who's been through every possible kind of hell and come out the other side convinced both that he can handle anything and that he should appreciate anything he still has left. There's a hint of the manic in this Murdock that suggests that the darkness could yet return, but this is so far a refreshingly light-footed and charming book. The art, whether it's by Marcos Martin as in this issue or Paolo Rivera in previous ones, is just as lively and visually inventive, particularly in devising clever ways to visualize the way the blind Daredevil "sees" the world.
This issue starts with two simple, visually elegant pages that immediately demonstrate Martin's graphic acumen: panels of black shadows on a blue background alternate in a grid with black text panels, slowly dealing out minimal visual and aural information about the trouble soon to erupt for Daredevil. It's a stark and effective intro. Otherwise, this isn't quite as exhilarating as the previous three issues of the series, mainly because there isn't the punchy hook of each previous issue: the bounding enthusiasm of Daredevil at a mob wedding in #1, the clever weapon-switching battle with Captain America in #2, the visualization of sound in #3. This, on the other hand, has a lot of nice little moments and provides a sense of what amounts to mundane life for a guy like Daredevil. Martin's art is agile and fluid, a perfect fit for an acrobatic crimefighter like this, and there are plenty of subtle touches to admire, like Daredevil's satisfied smirk as he glides along a high wire towards a pair of machine-gun-wielding crooks. Colorful, exciting and fun, Waid's
Daredevil
is a great new series.
The Unwritten #29
(Vertigo) - This series has a great premise: Tom Taylor's father was the writer of a series of Harry Potter-like magic novels, in which a boy very like Tom himself is the hero. Now that Tom's father is gone, he finds that he actually has the magical powers of his fictional alter ego, and is set against a secretive cabal that seeks to control and manipulate the power of stories. Writer Mike Carey is exploring territory very similar to the "all stories are true" themes often mined by Neil Gaiman and Alan Moore, but
The Unwritten
has enough of a unique slant on these ideas to feel fairly fresh. This issue continues the current storyline in which Tom probes into the early years of his father, who once worked for the secret organization that Tom now opposes. Not much happens in concrete terms, but the themes set up by the earlier issues of this arc are fleshed out as Tom learns about the tragic conclusion of a story involving a woman who wrote a superhero comic. There are obvious parallels here to the early years of Siegel and Shuster's
Superman
. This is a satirical stab at the dismal treatment of comics creators by the big comics companies, as well as criticizing the marginalization of women in the field. Peter Gross' art is clean and crisp, as usual; his minimal style isn't always well-suited to this comic's more magical and fanciful sequences, but he captures the more grounded scenes very well indeed. There's little enough magic in this issue, but one panel is especially striking: as Tom travels into the past via his father's diary, a series of overlapping pencil drawings depict Tom sequentially transitioning from his "real" self to the cartoony, simplified figure of his fictional counterpart from his father's novels. The flashbacks to the 1930s in this issue are inked by Vince Locke, who provides more of a scratchy, grimy look to set off these scenes from the more solid, clearly defined present. In its quiet way, this is a visually very striking issue.
Special mention should also be made of Yuko Shimizu, who has done the covers for all 29 issues of
The Unwritten
so far. Shimizu's covers are always gorgeous, but he's outdone himself here. This is his best work yet, in a run where he's consistently overshadowed what Gross is doing inside each issue. This cover's tribute to pulp novels and old comic books perfectly captures the spirit of the era that Carey is exploring here. This is amazing, and as always I just wish that Shimizu would or could draw the entire issue, to bring this level of artistry and imagination and glistening, unreal color to the interiors of the book.